Partnership
Dmail Network to Launch Cross Chain Communication & Notifications Solutions on Celo
Dmail Network will cooperate with co-marketing initiatives with Celo ecosystem members to expand their burgeoning ecosystems.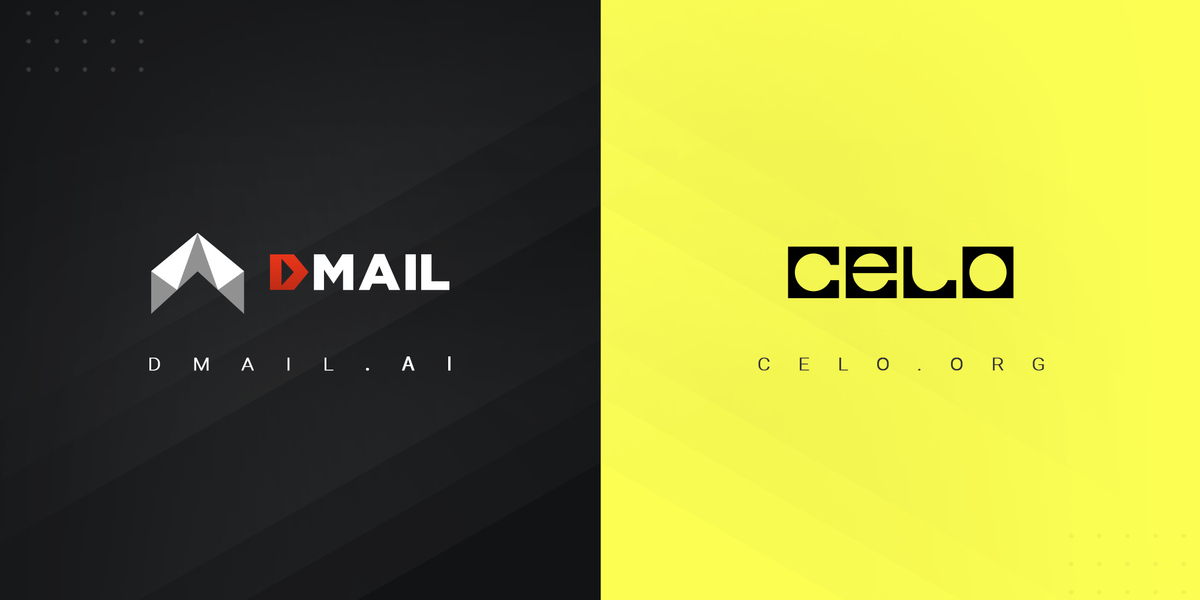 Dmail Network will provide multi-chain notification and cross-chain communication solutions on the carbon-negative, layer-1 blockchain Celo, and will cooperate with co-marketing initiatives with Celo ecosystem members to expand their burgeoning ecosystems.  
Dmail is delighted to announce its launch on Celo, a leading blockchain with a vision to build a regenerative digital economy that brings prosperity to all. Dmail's full range of products and services will be available to Celo's mission-aligned ecosystem of 1,000+ projects in over 150 countries.
Dmail has already been introduced to Celo ecosystem powerhouses such as Masa, a soulbound identity infrastructure for building web3 communities, and Elastos, a builder of #Web3 solutions that enables you to forge your digital destiny and will undoubtedly be expanding our connections in the Celo ecosystem in the coming weeks and months ahead.
Dmail Network is a revolutionary multi-chain infrastructure that enables secure, private, and efficient cross-chain communication and multi-chain notifications. It bridges various blockchain networks and decentralized applications (dApps), allowing users to stay informed and connected in the rapidly evolving digital landscape.
Seamless Cross-Chain Communication
Dmail Network offers a comprehensive messaging service suite that enables seamless and encrypted communication across different blockchain networks. Through Dmail, users can effortlessly connect with individuals on various public chains, including Ethereum, Binance Smart Chain, Solana and Polygon, to mention but a few. The decentralized architecture ensures data security and privacy with encryption protocols and user-controlled ownership of accounts.
Real-Time Multi-Chain Notifications
With Dmail Network's Notify Service, users receive real-time notifications and alerts for on-chain data from any public chain or dApp. Whether it's transaction activity, asset movements, or important updates, Dmail Network keeps users updated and informed. The platform's compatibility with multiple chains ensures that users never miss out on crucial information or valuable opportunities.
Advantages and Benefits
Broad Compatibility: Dmail Network seamlessly integrates with a wide range of public chains, enabling frictionless communication across diverse ecosystems.
Enhanced Privacy and Security: The decentralized architecture of Dmail Network prioritizes user data security and privacy, providing a secure environment for communication.
Efficient Information Delivery: With its advanced infrastructure and 100 geographically distributed information service nodes, Dmail Network ensures fast and reliable data delivery.
Empowering Developers and dApps: By integrating with Dmail Network, developers and dApps can enhance user engagement and deliver real-time updates to their communities.

Co-Marketing Initiatives: Collaborating on community AMAs, Twitter Spaces, partnership articles, and various social media channels, we aim to create engaging content and spread awareness about the joint efforts between Dmail and Celo ecosystem projects.
Technology and Product Integration: We will explore integrating Dmail's unique DID identity system with Celo ecosystem projects, allowing cross-chain communication through Web3 domains such as ENS, SpaceID, and Unstoppable. Additionally, we will explore potential synergies concerning the mobile-first approach that Celo has adopted.
About Dmail Network:
Dmail is a mail notify-based Web3 multi-chain infrastructure that provides unified, real-time communication services across various chains and applications. Our platform enables cross-chain encrypted communication and aggregates multi-chain domain name services, facilitating seamless communication between users with Web3 DIDs across chains.
You can connect with us through our website, blog, social media channels, and tutorial resources to learn more about our offerings.
About Celo:
Celo is the carbon-negative, mobile-first, EVM-compatible blockchain ecosystem leading a thriving new digital economy for all.

Connect with Dmail: Beta Mainnet | Website | Twitter | Discord | Gitbook tutorial