Partnership
Dmail X Across Bridge: A Conversation on the Future of Communication
We partnered with Across Bridge and joined their AMA where we discussed how Dmail has fast become the defacto Web3 communications hub.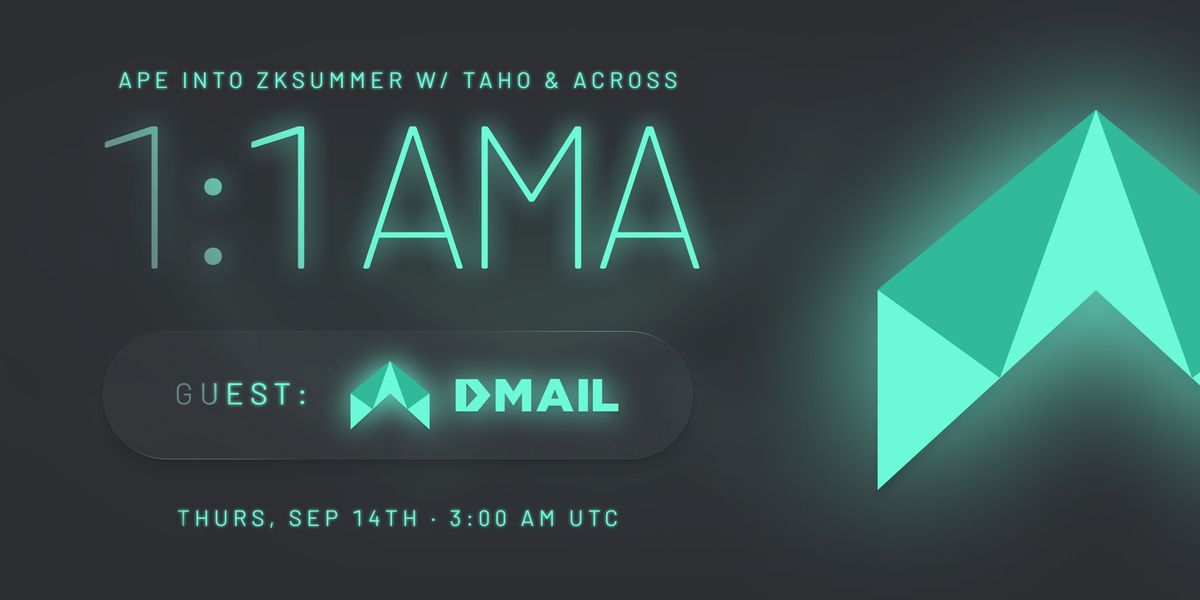 Dmail x Across Bridge: A Conversation on Web3, Email Security, and the Future of Communication
By Daniel, COO of Dmail
Date of AMA: 9/14/2023
Click here to hear the recording
Introduction
In a recent AMA session with Across Bridge, we delved into the heart of Dmail Network, the leading web3 communications platform. From our choice to integrate zkSync amongst the 14 chains that are part of our network, to our innovative Web3 features, and the roadmap that lies ahead, here's an overview of the insightful conversation.
1. General Introduction: Dmail's Journey
Daniel, COO of Dmail, shared insights into our globally distributed team comprising 27 dedicated members, each with extensive web3 experience. The Dmail Network is set to revolutionize communication by providing encrypted emails, consolidated notifications, and precise marketing services across various chains and applications.
Dmail's remarkable journey includes strategic partnerships, funding from top global VCs, and prestigious awards like the 1st prize in the 2021 Wanxiang Hackathon and the 1st BNB Chain Grant. Integration with prominent projects like ENS, SpaceID, Lens, and more than 120 others has propelled us to over 3 million users and 28 million messages sent.
2. Web3 Features in Dmail
Dmail incorporates cutting-edge Web3 features into its email services, including:
Decentralization: Messages aren't stored on a centralized server, enhancing security.
Blockchain-Based Verification: Ensures sender identity, reducing phishing risks.
Data Ownership: Users have full control and ownership of their data.
Enhanced Privacy: Messages and attachments are encrypted, ensuring confidentiality.
Interoperability: Seamlessly integrates with other Web3 services and platforms.
Future-Readiness: Positioned at the forefront of Web3 technology.
Additionally, Dmail is introducing new features like an AI Assistant, messaging services, and notification features to further enhance the user experience.
3. Dmail vs. Traditional Email
Dmail offers a decentralized, encrypted email service that provides users with more control over their communication compared to traditional providers like Gmail. Blockchain integration ensures message integrity and sender verification.
4. Data Ownership and Tokenization
Tokenization and data ownership empower Dmail users by giving them control, enhancing security, creating monetization opportunities, fostering interoperability, and driving network growth.
5. Email Signatures: A Professional Touch
Email signatures remain relevant for adding a professional touch to correspondence. Dmail is exploring ways to enhance and streamline this aspect of email communication, aiming to offer more functionality to users.
6. Achieving Impressive Traction
Factors contributing to Dmail's impressive traction include its innovative solution, strong value proposition, user-centric design, active community engagement, strategic partnerships, effective marketing strategies, and continuous improvement efforts.
7. Evolution of Email Services
Legacy systems and established user behavior have hindered the evolution of email services. However, with the advent of blockchain and Web3 technology, we now have the means to revolutionize email and bring it up to speed with modern demands.
8. Roadmap: A Glimpse into the Future
The roadmap for Q4 2023 to Q3 2025 includes exciting developments such as cross-chain messaging, a subscription & notification hub, Web2 login integration, and much more, culminating in an extensive suite of services.
In conclusion, the AMA session provided a deep dive into Dmail's commitment to revolutionizing communication through Web3 technology, secure email services, and a user-centric approach. With an innovative roadmap ahead, Dmail is poised to shape the future of decentralized communication.
Stay tuned for more updates from Dmail as we continue our journey towards a more secure, private, and interconnected digital world.
---
Note: This article is based on a recent AMA session with Across Bridge. The answers have been compiled and edited for clarity and coherence.
Connect with Dmail: Website | Twitter | Discord | Github | Telegram