Analysis
How to Build a Top-Notch Project with Maverick and Space ID
Insights from Dmail's Innovation Seminar #4 with Maverick and Space ID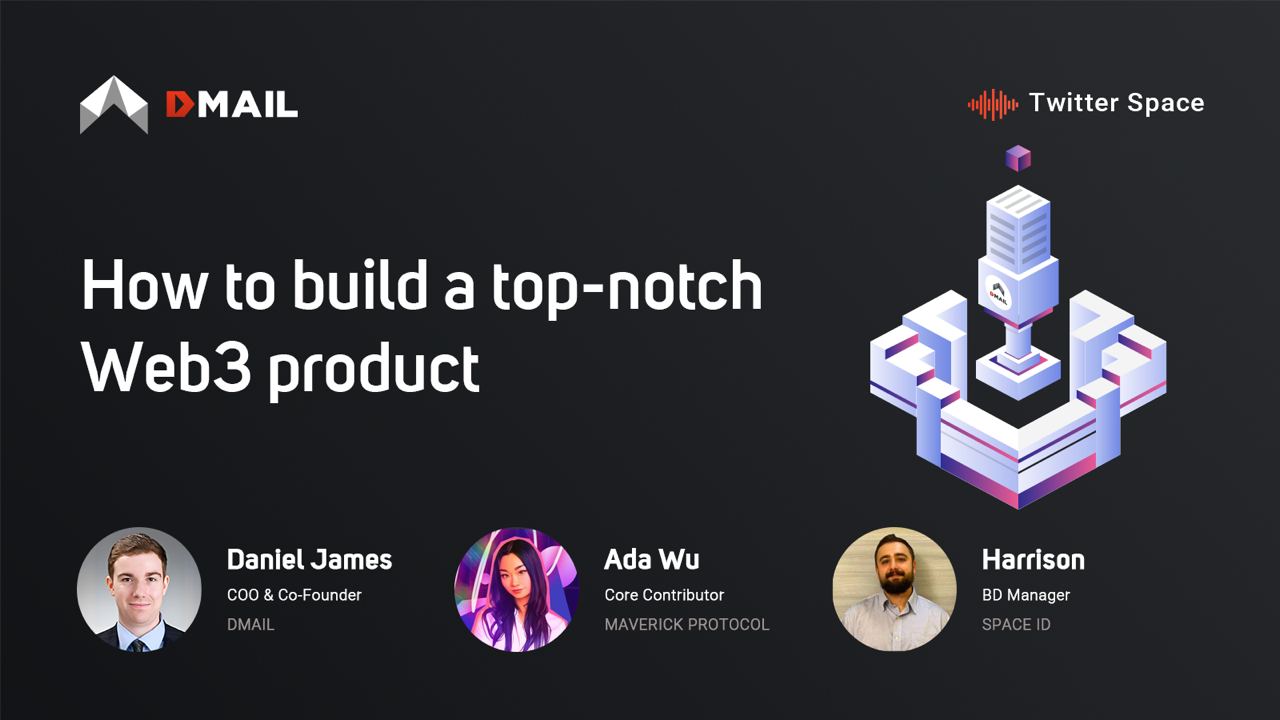 Summary of the Space
Date & Time: Thursday, 28th Sept, 1 PM UTC
Venue: Dmail Twitter Space
Speakers:
Ada Wu, Core Contributor, Maverick Protocol
Harrison, BD Manager, Space ID
Shared link of the summarized conversation
Introduction and Overview
The Dmail team was overjoyed to host an interactive AMA with our esteemed partners Maverick Protocol and Space ID. Ada Wu from Maverick and Harrison from Space ID provided invaluable insights into their trailblazing projects in the DeFi and Domain Naming sectors, respectively.
Ada Wu detailed Maverick Protocol's role in revolutionizing DeFi liquidity management. She emphasized Maverick's top position as a DEX, according to DeFi Llama, and its impact in the zkSync era. Harrison, on the other hand, presented Space ID as a universal naming ID aggregator and a one-stop platform for web3 domain names.
Insights from the Projects
Future Perspectives
Both projects identified identity and cross-chain communication as crucial for future development. Ada highlighted the shift in DeFi from idle Total Value Locked (TVL) to actively managed smart liquidity. Harrison emphasized the importance of building valuable identities over time in multiple web3 spaces like gaming and social networking.
Technological Advancements
Ada introduced Maverick's first-of-its-kind dynamic distribution market maker that enables liquidity providers to set custom strategies to mitigate risks like impermanent loss. Harrison pointed out Space ID's cross-chain DNS capabilities, built on open-source infrastructure, offering a more inclusive and simplified user experience.
Adapting to Market Trends
Maverick has been proactive in aligning with market trends like Layer 2 integration, launching an Ecosystem Incentive Program for contributors. Space ID is also focusing on Layer 2 solutions and has plans to broaden its reach as the blockchain ecosystem expands.
Future of DID/DeFi
Ada envisioned a smarter future for DeFi, with advancements in AMMs, yield aggregators, and liquidity aggregators. Harrison sees the future in cross-chain capabilities, where domain names will serve as reputation markers.
Upcoming Features
Harrison revealed that Space ID is developing an open-source domain name tooling kit, whereas Ada announced Maverick's Phase 3 program where MAP token holders can stake to vote for pool directions and earn rewards.
Community Questions
When asked about what caught the attention of the Binance team, Ada attributed Maverick's selection to innovation and team capability. Harrison mentioned their technical prowess, execution, and large adoption base as significant factors.
Concluding Thoughts
Ada saw the current period as a 'pre-bull market,' ideal for building partnerships. Harrison encouraged the community to keep faith in the technology, as the sector is in a stage of constructive development.
A Word from Dmail
Thanks to our wonderful guests for their valuable insights. Dmail network now boasts over 3 million registered users who have sent well over 30 million messages, positioning us as the preeminent communications hub for web3.
---
Strategic Implications for Dmail Network
Given that Maverick and Space ID are already Dmail partners, the insights from this seminar carry additional weight. There is clearly a rich potential for continued synergistic development. Could we, for instance, incorporate Maverick's liquidity management tools to enable a tokenized subscription model for Dmail?
Likewise, the cross-chain domain naming capabilities from Space ID are already being harnessed for Dmail's user authentication, and we will continue to work closely with the team since our respective fields overlap. This will be in order to give the very best web3 identity UX to our respective communities.
Dmail is on the cusp of launching its much-anticipated Subscription Hub. We are thrilled to announce that both Maverick Protocol and Space ID will be among the first to utilize this groundbreaking platform upon its immediate launch.
Thank you to everyone who participated!

Connect with Dmail: Website | Twitter | Discord | Github | Telegram