Partnership
Manta Network Partners with Dmail: Seamlessly Access Dmail via Manta Wallet
Manta Wallet users can now seamlessly & securely log in to Dmail using their Manta Wallet public addresses.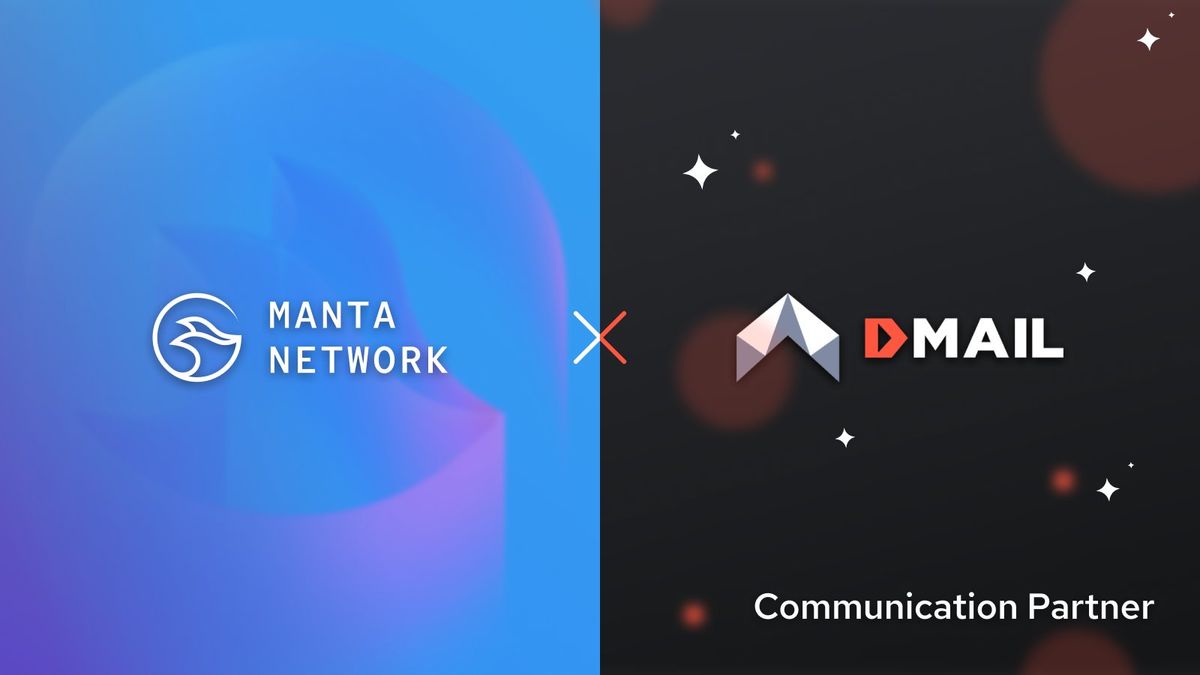 *The following article has been adapted from an article originally published on the official Manta Medium account.
As part of Manta Network's strategic partnership with Dmail, we are delighted to announce that Manta Wallet users can now securely log in to Dmail using their Manta Wallet public addresses. Dmail has completed its integration with Calamari Network, Manta Network's canary net, and Dmail plans to further integrate with Manta Network upon its launch.
This integration underscores our shared vision of empowering users with secure, privacy-centric communication tools. It marks a significant milestone in our progress in enabling Dmail to revolutionize email communications in Web3.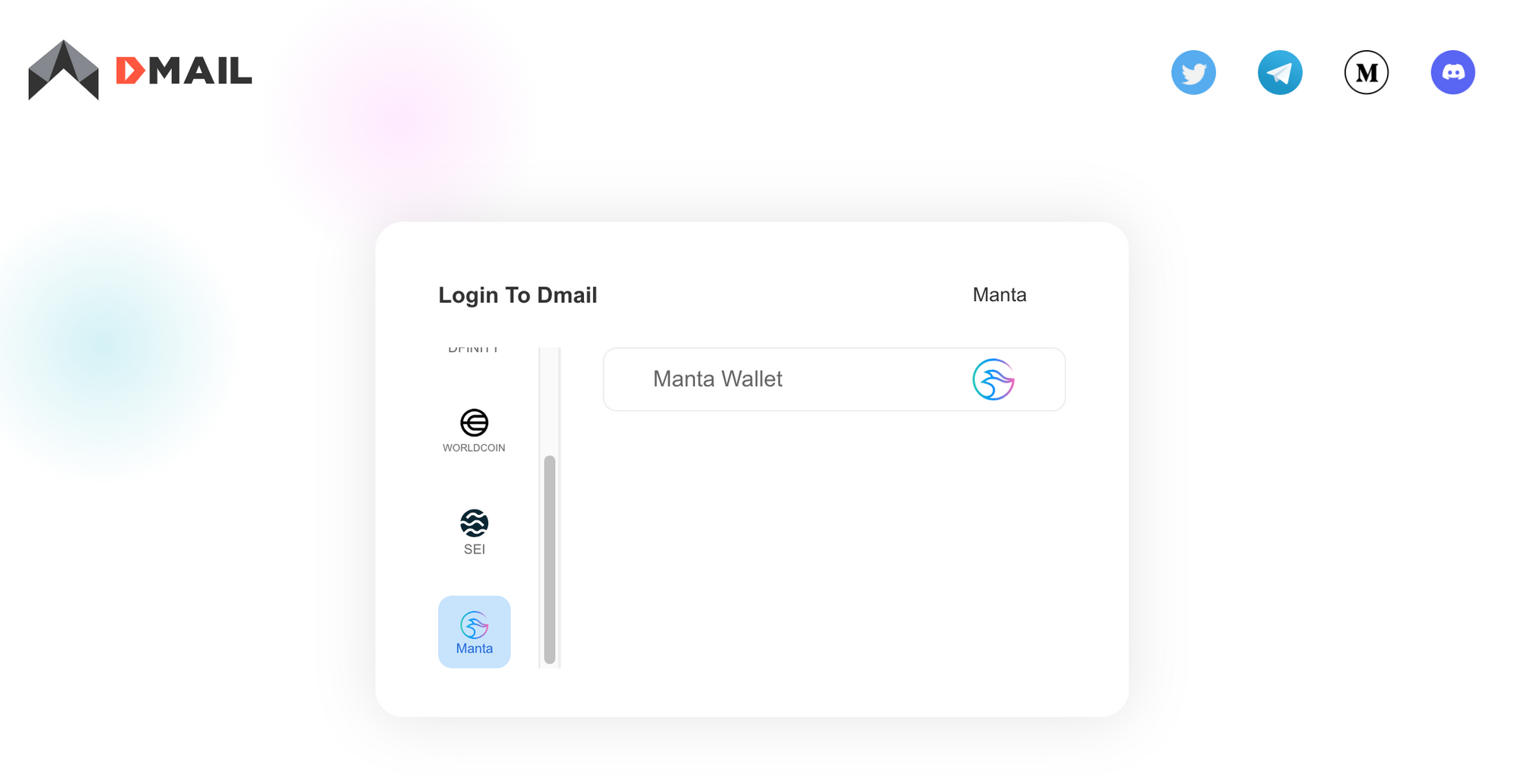 Effortless Login with Manta Wallet
With the Manta Wallet integration, users can effortlessly access Dmail by visiting their website and logging in with their Manta Wallet public address. This ensures a seamless and user-friendly experience for Manta Wallet users. As a result, users gain direct access to Dmail's decentralized email infrastructure, enabling them to send and receive emails with the utmost privacy and security. Manta Wallet users can also email others with SpaceID, ENS, and Unstoppable domains.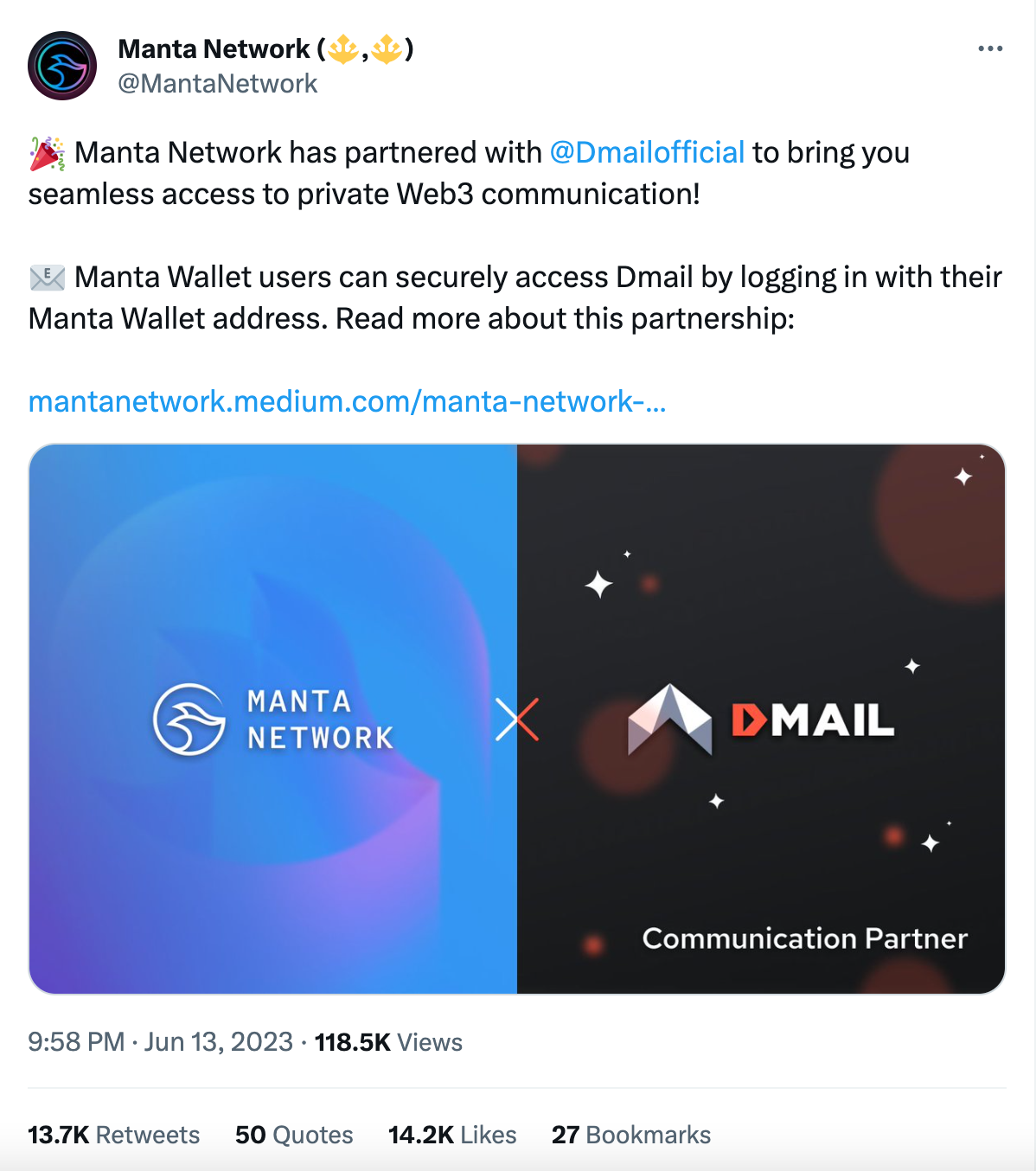 About Manta Network
Manta Network is the zk layer 1 blockchain with the fastest prover speed and most decentralized trusted setup that brings programmable privacy to web3. Its core products and technologies suite, including zkNFTs and MantaPay, offers user-friendly access to powerful ZK-enabled use cases.
The project was formed by a team of experienced founders from leading institutions, including Harvard, MIT, and Algorand. Manta Network has received investments from many of the top web3 investment funds, including Binance Labs and Polychain Capital. It has grown through participation in the best web3 accelerators, including Alliance DAO and Berkeley Blockchain Xcelerator. Manta Network is poised to bring the next generation of web3 users and usher in a new chapter of privacy-focused web3 applications.
About Dmail
Dmail is an email notification-based Web3 multi-chain infrastructure that provides unified, real-time communication services in scenarios such as cross-chain and cross-application, community relationship maintenance, and Web3 marketplace activities.
Dmail has raised funding from Amino Capital, Hashkey Capital, Draper Dragon, KuCoin Labs, Outliers Fund, and 20+ global top VCs. Meanwhile, Dmail won the 2021 Wanxiang Hackathon and the 1st BNB Chain Grant.
Dmail has integrated and provided services for WorldCoin, ENS, Unstoppable, SpaceID, Lens, Conflux, BNB Chain, and over 80 projects. We currently have over 200K users, and over 6M messages have been sent.

Connect with Dmail: Beta Mainnet | Website | Twitter | Discord | Gitbook tutorial