Announcement
Connect With Users That Matter: Introducing Dmail's Subscription Hub
If you are a developer or marketer who wants to be able to easily contact your web3 base then look no further- Dmail has you covered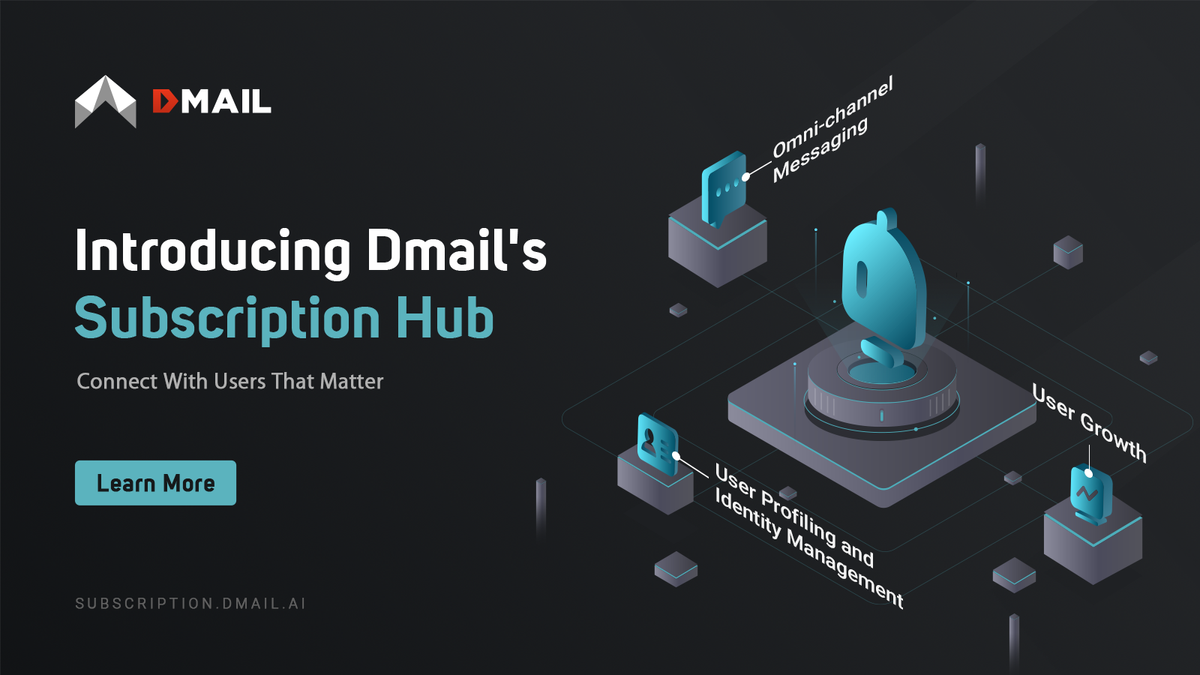 Dmail is thrilled to introduce the eagerly awaited Dmail Messaging Service that allows you to target your Web3 user base via wallets and DIDs through precise, targeted messaging.
Information about the service and its benefits for developers and marketers can be found in our deck, here:
Discovering the Dmail Messaging Service
The Dmail Messaging Service stands as a groundbreaking solution designed to revolutionize communication within the realm of blockchain products. This service unlocks a new era of real-time engagement and interaction by seamlessly bridging the gap between dApps, users' Wallets, and Decentralized Identifiers (DIDs).
Through this service, dApps gain the power to deliver vital notifications, updates, and essential information directly to users, ensuring that users are consistently informed about the latest developments in their applications. This dynamic service also offers developers the freedom to tailor the content and functionality of messaging to their unique requirements, allowing seamless integration with various communication tools and platforms.
Highlights of the Dmail Messaging Service
User-Friendly: The Dmail Messaging Service simplifies the user journey, requiring only three straightforward steps to initiate message pushes to the target audience.
Multi-Channel Reach: Dmail's service isn't limited to a single communication channel. It allows users to reach their audience through diverse platforms, including traditional ones like email, Telegram, Discord, and even more channels planned for future updates.
Precise Marketing: Powered by Dmail's AI-driven marketing assistant, this service offers an ingenious solution for identifying the most suitable recipients for project-related content. It features a dedicated tagging system that enables laser-focused content targeting based on user preferences.
Customizable Interfaces: Dmail is taking customization to the next level by developing user-friendly API/SDK interfaces, enabling users to send highly configurable custom content directly through the platform.
Codeless Creation: The developer backend, equipped with AI-powered push templates, eliminates the need for extensive coding knowledge. This empowers users to utilize Dmail's capabilities without the reliance on developers.
Zero Gas Fees: Say goodbye to gas fees! Dmail's service is designed to be cost-effective, allowing vital information to be communicated to users without the burden of transaction fees.
Customizable Push Dimensions and Effective Tracking: Dmail offers a sophisticated backend that facilitates intelligent template editing, accommodating diverse content pushes. With AI-powered templates and user-defined promotion dimensions, it's effortless to monitor the efficiency of your pushes.
Leverage Dmail's Massive Userbase for Precision Matching: The Dmail community is a powerhouse of engaged users. By joining, projects are exposed to a vast array of highly targeted users, harnessing the potential of over 3,500,000 users within the Dmail community's subscription section!
Addressing Pain Points:
The Dmail Messaging Service aims to tackle some of the most pressing challenges faced by developers and dApps:
Inadequate Communication Channels: Developers often struggle to communicate effectively based on wallet addresses, leading to low user retention and subpar experiences.
Notification Woes: Web3 platforms fall short when it comes to effective notification delivery via wallet addresses and DIDs, posing a hurdle in reaching and notifying users.
Insufficient User Profiling: The inability to comprehend user profiles through wallet addresses hampers personalized and targeted communication.
Custom Content Delivery: The absence of a suitable channel to send tailored content to users based on their preferences and interests.
Engagement Gap: A lack of effective channels to keep users updated on project progress and engage them with custom content.
In summary, the Dmail Messaging Service is set to reshape communication dynamics within the blockchain realm, bridging gaps, and connecting users and developers seamlessly.
To learn more about this groundbreaking initiative and how it can transform your project's communication strategies, we invite you to contact us on Telegram: @lucasislucas & @dmail_dan
Stay tuned as we revolutionize blockchain communication with the power of Dmail Messaging Service! The service is set to go live imminently, so please register your interest today.
For the latest updates, follow us on Twitter, visit our official website, and join our vibrant community.

Connect with Dmail: Beta Mainnet | Website | Twitter | Discord | Gitbook tutorial